Ha Giang by Motorbike
Ha Giang 3 Days/2 Nights Motorbike Tour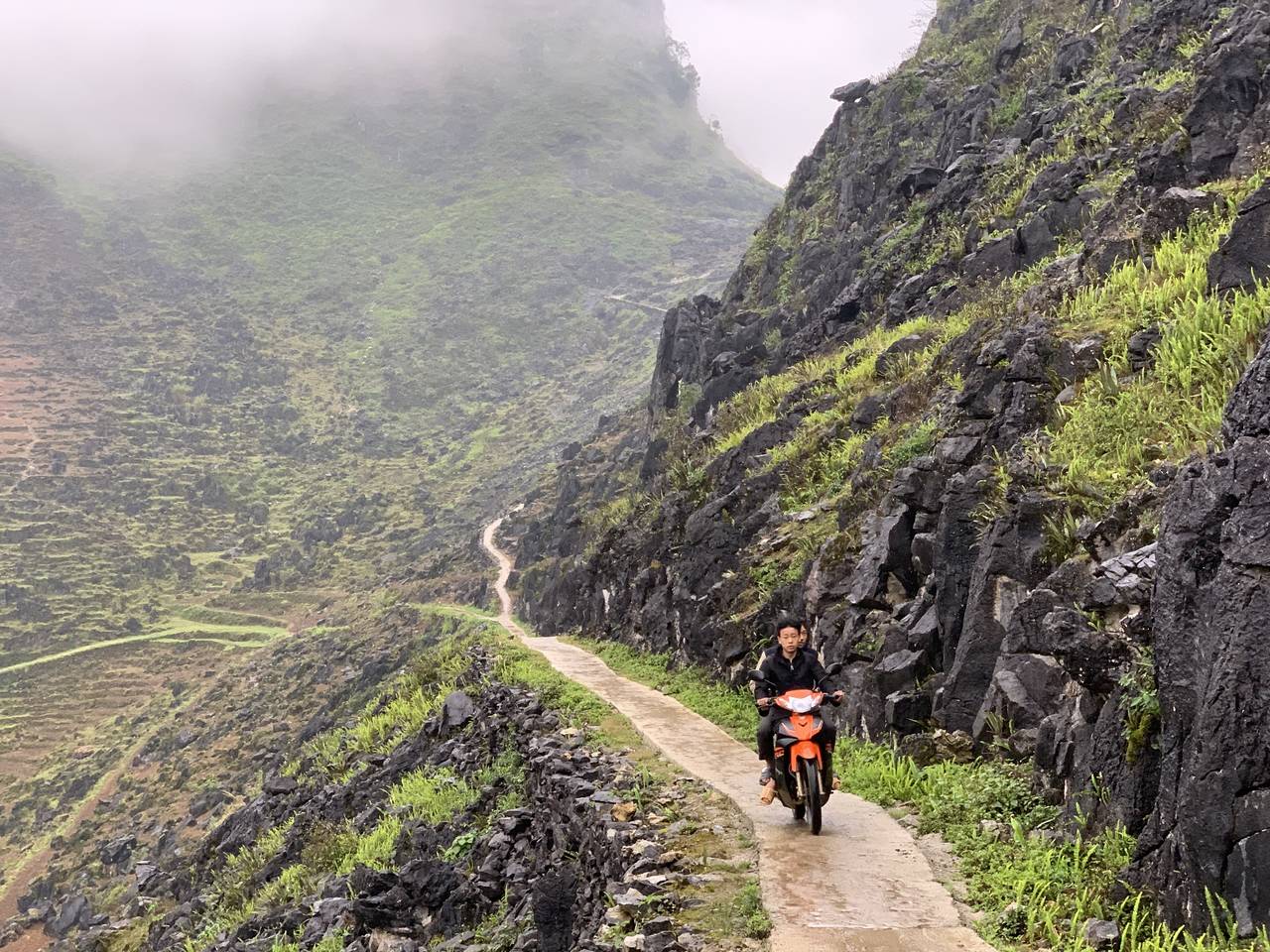 Price from 319USD per person for a group with 2 people.
Click on "Book Now" and scroll down to add people to your booking and see price per person
You can either drive the motorbike yourself or hire a driver. If you want to hire a driver you add that in the Shopping Cart after you selected your tour.
Beverage and transportation to Ha Giang are NOT included in the price.

The price includes:

Private female H'Mong guide

Motorbike, helmet, petrol

Shower before and after the tour

3 Breakfast

3 Lunches

3 Dinners

2 Nights Homestay

Luggages storage in Ha Giang City
Itinerary
The route below is just a suggested one. It may change due to weather condition, guests wishes and preferences or due to resons that is outside Sapa Sisters control
Day 1: Thon Tha / Ha Giang – Nam Dam (lunch) – Quan Ba – Yen Minh – Dong Van (hotel/dinner and breakfast on the next day)
Your tour starts at 8 am. You meet your motorbike driver and your guide at LiLa Inn, add:113 Nguyen Trai st. Ha Giang City. At LiLa Inn you can also have breakfast take a shower and storage your bigger luggages ( all included in the price).
You jump on the back of your driver's motorbike and off you go! The ride starts through a green landscape, the further you go the more spectacular it gets. Soon the landscape opens up with rice terraces climbing along the mountain sides. During the harvest season the mountain sparkles like gold. Or if you come in late March/April the water filled terraces turn the mountains into big mirrors.
Lunch will be in Nam Dam, a Red Dzao village. A local family will prepare lunch for you in their home. After lunch you can take a short walk around the village before continuing to Quan Ba – Yen Minh.
In Quan Ba, you will stop at the Heaven's Gate and walk up to the top - where you have a fantastic panoramic view over the valleys below. Passing Yen Minh on your way, you arrive in Dong Van town around 5pm. Here you stay the night. After check-in you can rest in your room or take a walk around town before dinner. In Dong Van, you can have some late drinks at Nha Co coffee, which is more than a 100 year old café.
Day 2: Dong Van – Ma Phi Leng (trek sky-walk) – Tu San Chasm – Meo Vac (lunch) – Du Gia (homestay/dinner and breakfast)
After breakfast, we will start by driving to Ma Phi Leng Pass. Ma Pi Leng is located between Dong Van and Meo Vac. The length of the pass is around 20 km with 10km being the most impressive scenery in the region. In Ma Pi Leng, you will stop at the sky-walk and choose trails to trek down. You can choose levels of the trek, 1- 3 hours through rice terraces and Lo Lo Minority village. The drivers will wait for you and your guide at the big road.
When you go down, you can take a rest at some small local food stalls. Here you can buy corn, sweet potatoes or eggs from the grill. (On this day there will be a late lunch about 1.30pm therefore we highly recommend that you have some light food at the food stalls).
You will continue to ride to the deepest canyon in the plateau with breathtaking scenery over Ma Pi Leng Pass the "Tu San Chasm". In Tu San Chasm you and your guide will take a boat on Nho Que river. The boat trip takes around 50 mins.
After the boat ride you have a 1 hour drive until you reach Meo Vac where you stop for lunch. Meo Vac is the northernmost town in Vietnam.
After lunch you will continue to a Du Gia, a peaceful Black Hmong village, where you will spend a night in a Homestay. Enjoying the dinner with your host and her family will make a great last night before making a circle back to Ha Giang City.
Day 3: Du Gia trek to waterfall – Mau Due (lunch) – Ha Giang City (dinner)
You can take it easy to enjoy the morning with mountain surrounding. You and your guide can do a short trek to a nearby waterfall, and if the weather permits you can go for a swim. You should be back and ready to leave the homestay around 10 am. Heading to Mau Due where you stop to have lunch. Then you start the longer drive, back to Ha Giang City where the tours ends at 5 pm. You can have a shower and collect your luggage at LiLa Inn.
A bus to Hanoi departs at 8 pm, or we can arrange private car if you prefer that.